Choosing a treatment center can be confusing and overwhelming, especially when your family is in crisis. We're here to help. Below are answers to the questions most loved ones ask before choosing Rising Roads. If you're still in need of answers, contact our team for more information.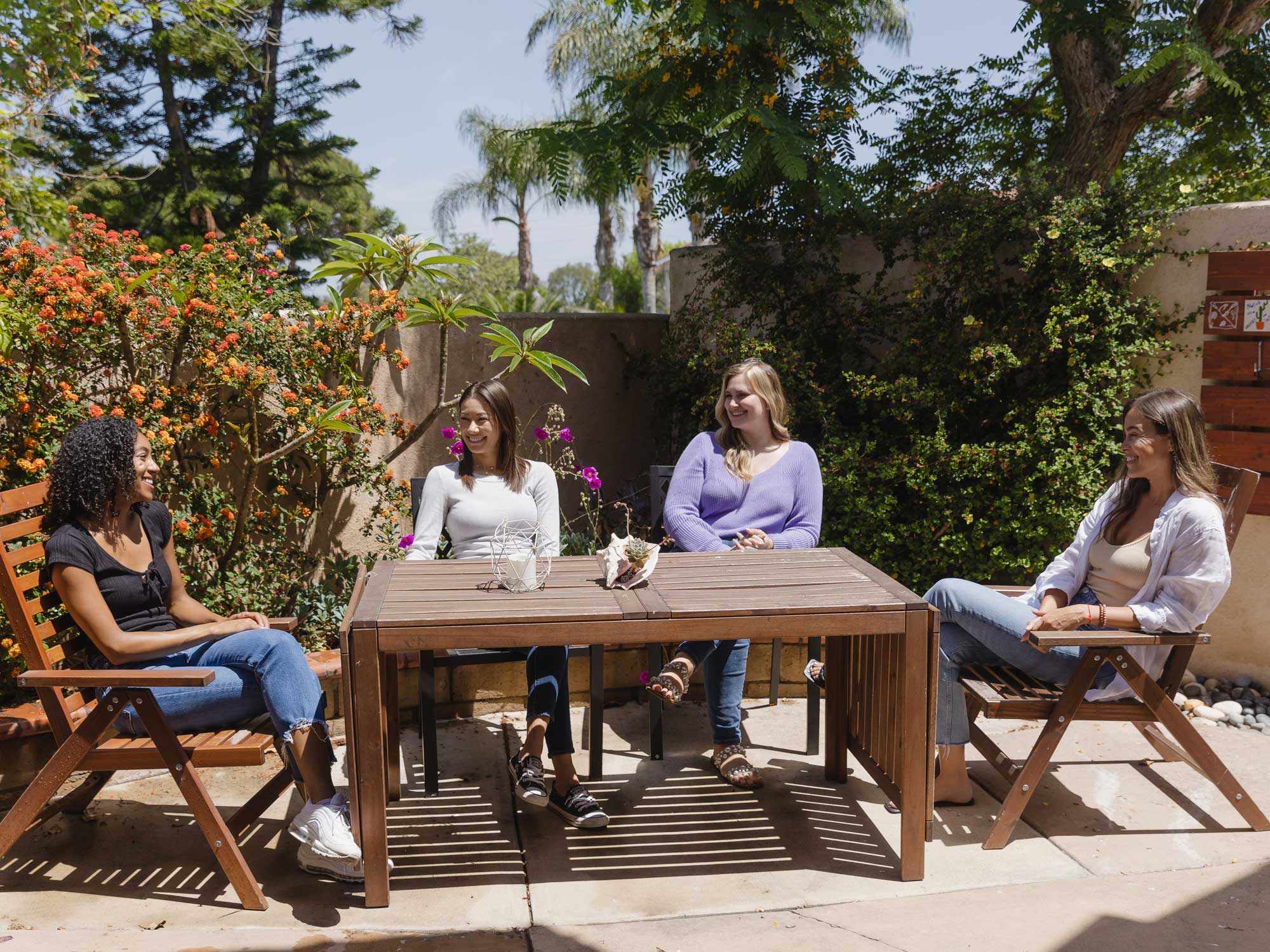 Why have we been referred to Rising Roads for a 90-day stay? My loved one has already completed a program.
This is a great question, especially because most of our clients come to us from 30- to 90-day primary programs. To put it simply, research shows that the more time a person spends in treatment, the better their outcomes will be. A 90-day stay is the timeframe during which we see the most success. We also do unique work at Rising Roads; our approach helps women to advance their recovery in the first few months after primary treatment.
During the first two to four weeks, clients are in transition. They are getting to know our treatment team and community. As we dive deeper clinically, we slowly add privileges and life experiences to identify more patterns and behaviors. This is how we successfully work past "stuck points" that have occurred in our clients' lives. During the last 30 days, we help them make a plan for the future.
90 days is not the limit for Rising Roads. Some clients end up staying with us for a year by stepping down to transitional and supportive living programs. Every client is on her own journey, and we customize her treatment plan accordingly.
What types of therapy are offered?
Accelerated resolution therapy (ART)
Brainspotting
Cognitive behavioral therapy (CBT)
Dialectical behavioral therapy (DBT)
Expressive arts therapy
Eye movement desensitization and reprocessing (EMDR)
Psychodrama
What is included in the cost?
Included:
Weekly individual sessions
Weekly family sessions
All Rising Roads clinical programming
Psychiatry
Weekly $80 grocery card
Weekend outings
Transportation
Gym membership
Not included:
Petty cash
Additional medication charges
Ancillary services such as individual sessions with the nutritionist or providers outside of the Rising Roads team
Southern California has the best weather in the country! But since it gets chilly in the winter months and evenings, it's best to bring layers. We also encourage our girls to make their space as comfortable as possible! Below is a list of common items for our clients.
Clothes
Hoodie
Light jacket
Comfortable pants
Shorts
T-shirts
Jeans
Bathing suit
Sneakers
Socks
Exercise clothes
Flip-flops
Preferred toiletries that do not have alcohol (no nail polish remover or mouthwash with alcohol)
We provide bedding. However, some clients bring their favorite pillows or a throw blanket. Towels are also provided.
Miscellaneous:
Books
Journal
Hobby supplies
Computer and/or iPad
Photo ID (license) and
medical insurance card
How soon can we come to visit?
The treatment team asks families to wait at least 30 days before visiting their loved one at Rising Roads. The first two to four weeks are typically a period of transition and integration for new clients. Family visits tend to go much better when there have been a few family therapy sessions and the client has been fully integrated into the Rising Roads program.
Note: This is a typical timeline and can be adjusted depending on the needs of the family and/or client.
Can we communicate with our loved one?
After the first two weeks, clients typically get their phones back and can text, call, or video chat with family during designated times. Around this time, clients and families also have their first family therapy session through Zoom.
If I have a question, who do I contact?
Questions about accounting or petty cash:
Overall program questions:
Specific therapeutic questions:
Your loved ones therapist and case manager. You will receive their contact info upon admission 
How much petty cash is needed per week (on average)?
On average, clients spend about $75 to $150 per week in petty cash. This money is used for toiletries, outings with sponsors, extra weekend expenditures beyond Rising Roads, and other costs. Clients turn in receipts each week to account for their spending. This is the beginning of their education about budgeting and using their financial resources wisely.
The best way to provide petty cash is to either send a monthly check to Rising Roads. Rising Roads will secure the petty cash and only give it to clients in small increments.
Note: The weekly grocery card is covered by Rising Roads and not by petty cash.
Speak to a Recovery Specialist